Looking to make your dog's wedding day extra special? Delicious and unique dog wedding food is sure to get tails wagging at your pup's big day!
From canine-friendly finger foods to fun party snacks, get creative with these paw-some dishes that will keep guests begging for more.
Keep reading to find out what should and shouldn't be on your menu and how to have a fun and safe day!
4 things to consider when ordering or making your dog's wedding cake
What is a wedding without a cake? In this case a pup cake!
One of the best and most efficient options of course is to bake your own cake
Keep these things in mind when baking a cake for your dog's wedding
1. Order a cake from a professional dog bakery
The easiest way to have a cake at your dog's wedding is to order it from a barkery
There are so many options to choose from when finding a cake for your dog's big day as dog bakeries are popping up everywhere.
In lieu of finding a local bakery, you also have the option of locating one online, Etsy is a good place to start.
You can let them know if your dog or any of the other dogs in attendance suffer from food allergies and since it is a professional baker you can be assured that all of the ingredients are pet friendly.
2. Use an edible cake topper
If you choose not to use an edible cake topper obviously you'll have to remember
There are some awesome cake toppers on the market for dogs, the
3. Ensure that the ingredients are all dog friendly
Did you know that some peanut butters and vanilla extracts can cause dogs to get extremely sick and possibly kill them?
While the thought of using dog-safe ingredients may seem like a no-brainer to many in some cases people use ingredients that they didn't even know were toxic to dogs
This is why it's extremely important to do your research on anything you decide to use in your dog's wedding cake.
4. Keep the ingredients simple
When making a cake for your dog keep in mind that the simpler the better. If you can make a cake with pretty limited ingredients this is always going to be your best option.
Try to stick to no more than five ingredients when making the treats for your pup and their guest.
5. Use meat
Instead of using flour use meat! While a meat cake may not sound appetizing to you we can guarantee the dogs at the party will go crazy for it. Instead of using flour use meat.
Also remember that dogs will always choose meat over anything else so making them a bland meat cake would work best by mixing in bland, unseasoned, bland protein like chicken, bison, or beef and mixing it with plain rice and decorating it.
Most dogs will really enjoy cake and you will probably put most pet parent's worries about introducing a new food into their dog's diet at ease.
When making your dog's wedding cake be sure to substitute common ingredients used in human cakes for dog-friendly ones.
---
Common substitutes to use in your dog cake
1. Chocolate
Instead of chocolate use dog-friendly carob. Chocolate can cause real issues in dogs especially depending on the size of the dog and how much they have eaten.
If you want to make something look like it is chocolate you can substitute chocolate for carob. Carob is made from the carob bean and does not have the theobromine that chocolate does. It also doesn't have any added sugar so it is much safer for dogs in moderation.
2. Compote Filling
Instead of sugary compote filling use fresh berries that are low in sugar like blueberries and watermelon. You can mash or blend them if you want that compote feel.
3. Icing
Instead of icing use greek yogurt that has been stiffened with potato or tapioca starch. It looks just like white icing although if you use too much potato starch it may begin to crack. See below for a recipe that shows you how to make the icing.
For 'chocolate' icing you can simply use a nut butter made for dogs like Buddy Butter.
Another alternative to icing is to purchase icing specifically made for dogs.
4. White flour
White flour really has no nutritional value and isn't the greatest flour to use in dog treats. Even whole wheat flour is a better option and a pretty popular choice for most pet owners. You can also choose to use a more beneficial flour like almond, chia, or sorghum.
If you would like some other alternatives like more grain-free flour read our article here about choosing the right flour for your dog treats.
There are also cake mixes for dogs and one of our favorite options is to have a flourless cake and just use meat and rice.
5. Food coloring
Instead of using food coloring which can have some harmful ingredients for dogs use food! You can make all sorts of colors with dog-safe foods like blueberries for a blue color, beets or strawberries for a red color, and wheatgrass juice or peas for green. There are so many options to choose from.
6. Cake toppers
Instead of a traditional topper that isn't edible make your own using silicone molds. This is best if you are going to have the cake out in plain view of the guests who just might decide to taste the cake before anyone else.
---
Delicious dish ideas for your dog's unforgettable day
Unleash your furry guests' anticipation with delicious dishes! Get creative with these unique dog wedding food ideas for an unforgettable experience.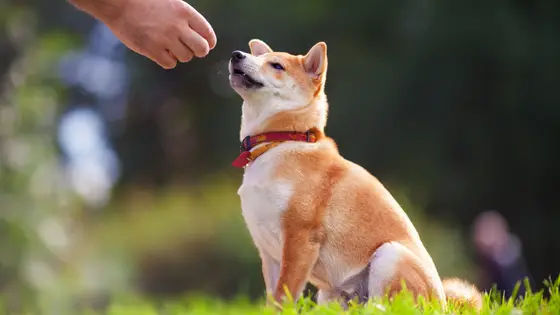 Yogurt Icing for Dogs
---
Ingredients:
½ cup plain Greek yogurt
½ cup tapioca starch
2 – 3 teaspoons room temp water
Instructions:
Place yogurt and tapioca or potato starch in a bowl and combine.
Mix in the water until the consistency of icing
Doggy Charcuterie Board
A doggy charcuterie board is bound to be a hit
Ingredients
Cheese
Doggy bones of your choice
Jerky: which can include beef, chicken, or sweet potato
Apple slices
---
---
8 Food safety tips for the wedding day
While this should be a day of fun for all there are some things that you may want to plan for possible issues
1. Create small portion sizes
Instead of having one large cake create small pup bites or just slice your cake in extremely small pieces. Dogs have pretty gentle stomachs and giving them a lot of treats at once can cause some gi upset. Instead of placing so much focus on the food place more emphasis on getting great games and activities for the pups and their pet parents.
2. Know if your guest has any allergies
When you have people RSVP for the wedding find out about any possible allergies the dogs in attendance may have so you can plan your treats accordingly
3. Type up an ingredient list for each treat
Make sure to have a list of what's in all of the treats nearby for the pet parents to inspect prior to feeding their pups
4. Keep the treats out of reach of the pups
Keep the treats out of reach at least until it is time to sever them, especially if you are going to have a cake. It only takes one dog to swipe the entire cake!
5. Don't use tablecloths
It only takes one dog to tug on the tablecloth to bring the entire wedding tumbling down
6. Don't use any ingredients that can spoil quickly
Don't use any ingredients like milk that can spoil easily throughout the day
7. Have a designated mealtime
Have a designated meal time for all of the dogs and spread them out if possible when eating so no fights over food break out
---
8. Don't let food sit out for too long
If you have the event outside, take up all of the food no more than 20 minutes after all of the dogs have eaten
Tips for enjoying the day
Make sure owners bring leashes for their dogs or you have some extra leashes on hand just in case
Search Pinterest for some fantastic ideas about decor
Use our checklist below to make sure you have everything you need for the party
Choose a color theme, rust is in for weddings this year!
Make it a theme party: You can do anything from old Hollywood to Disney movies
Invest in a photographer: You can use a designated friend or family member
Limit the guest list to keep the party small and manageable
Have plenty of poop bags on deck
Choose a dog-friendly location, preferably outdoors
Have games for pets and their humans to play together
Have your guest dress up too
Remember this is just for fun, so have fun!
Fun game ideas for the day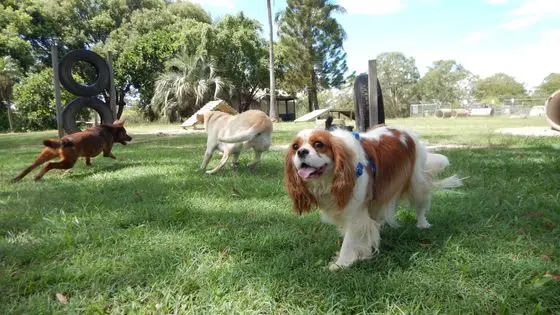 Obstacle course
Set up an obstacle course for your guest an see who can get through it the fastest
Make it a pool party
Or should we say a pool pawty! This theme is so much fun and if you don't want a ton of dogs (and their fur) in your pool you can use kiddie pools for the dogs
Scavenger hunt
You can make this scavenger hunt fun for humans and dogs, place things around that dogs enjoy like dog treats so they can use their senses to get involved
---
4 Tips for including your dog in your wedding
If it is your special day and you want to make sure your pup is involved here are a couple of tips to help them enjoy the day as well
1. Have a special plate for your dog
This way they can eat when everyone else is eating
2. Have a quiet retreat area for them
If they get stressed or anxious have a quiet retreat room for them
3. Don't make them wear clothes for long
If you dress them up watch for signs of them being ready to take them off
4. Have a doggy sitter
Have a designated doggy sitter for the day that can ensure they eat, have water, and use the bathroom when needed. Also to make sure they aren't getting into anything they shouldn't on the day of the wedding
---
---