What is a Raw Food Diet for Dogs?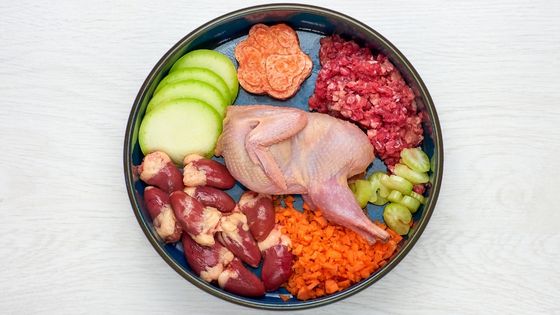 Raw dog food was first introduced by R. Ian Billinghurst and raw recipes have come a long way since then. Many of them now provide complete and balanced nutrition as well as many of the essential fatty acids, vitamins, and other nutrients.
Pet parents are turning towards raw foods over dry food at an ever-increasing rate. Many dog owners believe this is the best option for their pups.
While some pet owners are great about raw-feeding homemade recipes, purchasing over-the-counter raw dog foods can ensure vital nutrients aren't missed and that your dog is eating a balanced diet.
Unfortunately, many homemade raw diets can not be considered nutritionally balanced meals due to their lack of variety in meal prep.
Before we look at some of the best raw dog food brands, let's first look at what types of raw dog food are available to pet owners.
Types of Raw Dog Food
1. Freeze-Dried Raw Dog Food
Freeze-dried food has had moisture eliminated through drying at very low temperatures. The ingredients are frozen and placed in a strong vacuum that converts water to vapor.
2. Frozen Raw
3. Gently Cooked
Best Raw Dog Food Brands
There are a number of different brands of dog food and so many have great formulations. Below are some commonly used options.
All of these dog foods have been formulated to be nutritionally balanced and include a variety of animal proteins, omega fatty acids, raw bones (ground),
Our criteria included
Whole high-quality ingredients
Organic ingredients
No GMO
No antibiotics
No Hormones
No Gluten
Minimally Processed
The Best Over-The-Counter Raw Dog Food Diet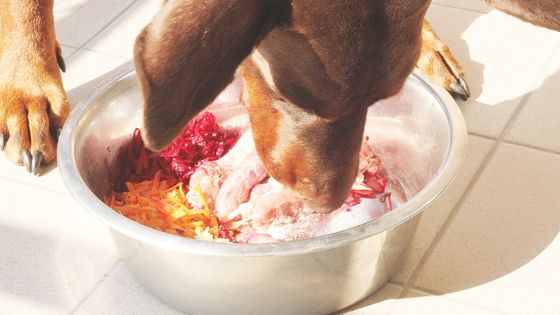 1. Primal
We like Primal dog food because it hits all of our criteria. Owners are also given three options to choose from frozen raw food diets, freeze-dried dog food, and gently cooked.
All of their products are made with fresh organic ingredients and their essential vitamins and minerals are derived from certified organic vegetables and fruits, which we love because that means no synthetic vitamins.
They even state that buyers will not find synthetic supplements in their products, as well as no soy, corn, or wheat.
The meats they choose are steroid and antibiotic free and include whole-muscle meat, meaty bones, and organ meat. All meat is ethically raised and has no hormones added.
We also like that the ingredients are minimally processed as well.
2. Bixbi Pet Food
Bixbi makes the list because it is made with no fillers, flavorings, preservatives, or colors. Also, all of the meat used is hormone and antibiotic free.
The food is made of 98% USDA Human-grade inspected muscle meat and organ meats.
This raw dog food diet is also grain and gluten-free and does not include any rendered by-products or animal meal.
3. Viva Raw
Viva Raw is made with 90% humanely raised meats that include no antibiotics or hormones and 8% organic fruits and vegetables. However, the diet does include 2% natural supplements. We like that many of their formulations include green mussels which would be great for a dog with arthritis.
Best raw dog food delivery
1. Raw Wild
Raw Wild dog food is made from 100% organic elk and deer meat, from animals that live wild in the Rocky Mountains. For this reason, the company does not include any organ meats due to possible contamination of harmful bacteria that live in the liver, spleen, and other organs of these animals.
Their foods are all-natural and do not include any hormones, gluten, grain, antibiotics, preservatives, or GMOs.
2. Darwins natural products
Darwins natural products include cage-free chickens that are free of hormones, antibiotics, and steroids and USDA-certified organic vegetables.
What we like most about this brand is that you can purchase foods to help in the treatment of specific diseases such as renal disease with their kidney support formula, hepatic disease with their liver support formula, and cancer support which includes turmeric.
The ingredients include Omega3 and Omega 6 fatty acids from organic flax seed and they use wild-caught cod liver oil for a natural source of vitamin D.
Google score: 4.2/5 – although most negative reviews were based on customer service and not the food, we found that most of the complaints came from people that had used the service for years.
Cons: If you have a larger dog it may not be as cost-effective but they do have two price ranges with their premium recipe and a value recipe
Best Raw Food Toppers
Halo pets
Best raw treats for dogs
Little Hunter
Best raw dog food for dogs with arthritis
Viva Raw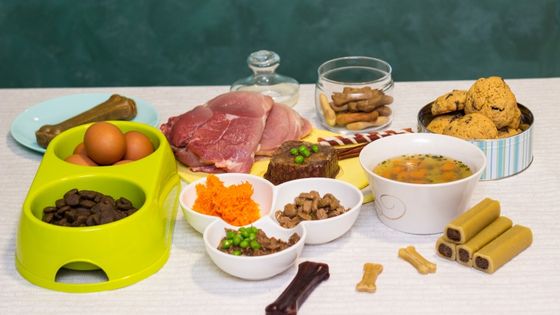 What are the benefits of feeding my dog raw food?
Owners that want to start their dog on a BARF diet or biologically appropriate raw foods diet AKA bones and raw foods diet want to ensure they are doing the best for their dog's health but may not be aware of all of the pros and cons of doing so.
According to some studies and dog owners that have started feeding their dogs a raw dog food diet, feeding your dog raw can aid in digestion, decrease allergic reactions, and improve energy levels.
Many believe that since raw foods are closer to their ancestral diet it is better for their dog. However, you should know what to look for in a raw diet and how to determine if what you are feeding your dog is actually better than a traditional kibble diet