Probiotics have been a major part of many people's diets for years, now your pets can benefit from taking them as well.  Although this post does contain affiliate links I rated these based on the number of actual CFU's, probiotic types, ratings, and other ingredients.  Let me know if you think others should be on the list for next year!

FURR LANDIA: PROBIOTIC IMMUNE TREATS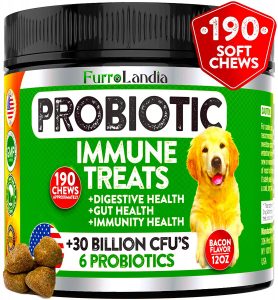 BUY NOW

$24.95/190 CHEWS
85% 5 STAR RATING (121 RATINGS)
BENEFITS PER COMPANY: Relieves Dog Diarrhea, Constipation, Improves Digestion, Allergy, Hot Spots, Immunity – Made in USA
 INGREDIENTS: Brown rice flour, oat flour, flaxseed meal, sunflower Lecithin, natural bacon flavoring, deionized water, yeast, blackstrap molasses, sunflower oil, organic vegetable blend: carrots, beets, apples, celery, lemon, cucumber.
PROS
CONS
COST 
BACON FLAVOR
CONTAINS PREBIOTIC
6 STRAINS OF PROBIOTIC
30 BILLION CFU'S PER SERVING
100% NATURAL INGREDIENTS
HAS FLAX SEED MEAL
NO SOY, CORN, DAIRY, SUGAR, GRAIN
NO HORMONES
100% NATURAL INGREDIENTS
CONTAINS YEAST & OAT FLOUR

FUR BELLY: PROBIOTICS FOR DOGS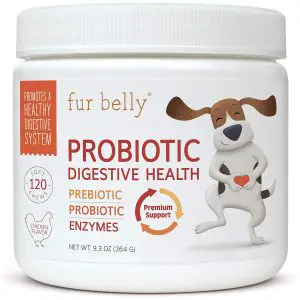 BUY NOW

$23.99 for 120 CHEWS
96% 5 STARS/41 RATINGS
BENEFITS PER COMPANY: IMPROVES DIGESTION & UPSET STOMACH, RELIEVES GAS, DIARRHEA & CONSTIPATION, HELPS WITH ALLERGIES & IMMUNE DISORDERS
Ingredients:Amylase, Lipase, Protease, Cellulase, Lactase, Bromelian, lactobacillus acidophilus, Lactobacillus Planterum, Lactobacillus brevis, Lactobacillus lactic, Lactobacillus fermentum, oat flour, palm fruit oi, rice bran, rice flour, flax seed, natural chicken flavor, sun flour, lecithin, coconut glycerin, sorbic acid, powdered cellulose, inulin, rosemary extract, mixed tocopherols
PROS
CONS
CONTAINS PREBIOTIC
CONTAINS DIGESTIVE ENZYMES
NO CORN, SUGAR, WHEAT, ARTIFICIAL FLAVORS, COLORS OR GMO'S
2 BILLION CFU'S
CHICKEN FLAVORED
ONLY CONTAINS LACTOBACILLUS TYPE PROBIOTIC


ZESTY PAWS PROBIOTIC FOR DOGS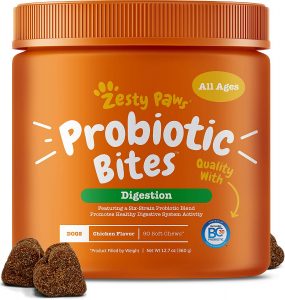 BUY NOW

$25.97/90 SOFT CHEWS
82% 5 STARS/ 2,728 RATINGS
BENEFITS PER COMPANY: Promotes Healthy & Balanced Gut Bacteria. Supports Overall Digestive Speed & Function. Promotes Utilization of Proteins & Minerals, Supports Immune System Response
Ingredients: Pumpkin, Papaya, Total Microbial Count (Lactobacillus acidophilus, Lactobacillus plantarum, Lactobacillus brevis, Lactobacillus fermentum and Lactococcus lactis) GanedenBC30 (Bacillus Coagulans GB!-30, 6086), Pea Flour, Palm Fruit Oil, Garbanzo Flour, Tapioca Flour, Flaxseed Meal, Sun¬flower Lecithin, Natural Vegetable Flavoring, Coconut Glycerin, Rosemary Extract, Mixed Tocopherols, Sorbic Acid (Natural Preservative).
PROS
CONS
TWO FLAVORS: CHICKEN & PUMPKIN
CONTAINS PUMPKIN & FLAX SEED
NO GRAIN, CORN, OR SOY
NO ARTIFICIAL FLAVORS
3 BILLION CFU'S PER CHEW
CONTAINS PEA FLOUR (ALLERGIES)
ONLY HAS 2 TYPES OF PROBIOTIC: LACTOBCILLUS & BACILLUS
COST: SOMEWHAT HIGHER THAN OTHERS

PET ULTIMATES PROBIOTICS FOR DOGS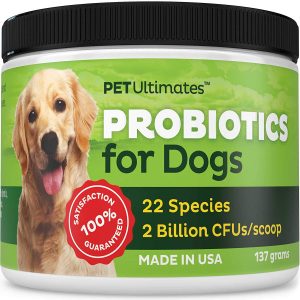 BUY NOW

$35.95/137 GRAMS
POWDER
78% 5 STARTS/ 1,681 RATINGS
Ingredients: Inulin (prebiotic), Lactobacillus acidophilus, L. brevis, L. bulgaricus, L. casei, L. cellobiosus, L. delbrueckii, L. fermentum, L. helveticus, L. lactis, L. plantarum, L. reuteri, Bifidobacterium adolescentis, B. animalis, B. bifidum, B. infantis, B. longum, Enterococcus thermophilus, Pediococcus acidilactici, P. pentosaceus, Propionibacterium freudenreichii, P. shermanii, Saccharomyces cerevisiae, Alpha-Galactosidase, Magnesium Stearate.
PROS
CONS
MULTIPLE SPECIES OF PROBIOTICS
CONTAINS PREBIOTIC
CONTAINS FILLERS
POWDER (MAY BE A CON DEPENDING ON EATING HABITS)
If you try any of these probiotics this year, let us know!  Make sure you consult with your veterinarian prior to feeding your dog.
HOW TO CHOOSE THE BEST PROBIOTIC FOR YOUR DOG
THIS POST CONTAINS AFFILIATE LINKS