Bone broth is already a nutritious treat that you can offer your dog, but it is even more beneficial with the addition of the anti-inflammatory benefits of chia and flaxseed. Both of these nutritious seeds are packed with fiber, protein, and tremendous anti-inflammatory properties that can help decrease swelling and joint pain.
If you are interested in learning more about the benefits of chia seed and flaxseed for your dog you can read the articles below
Anti Inflammatory Bone Broth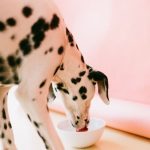 Treat your dog to a healthy and delicious treat
Various Animal Bones (chicken, pork, lamb, cow (include joints & marrow))
Water to cover the bones
1 tbsp Apple Cider Vinegar
1 tbsp Coconut Oil (extra virgin, cold pressed)
½ teaspoon Turmeric Powder
1 teaspoon Chia Seeds
1 tbsp Ground Flax Seeds (ground)
½ cup Kale (optional)
1 cup Water
Place your bones in your crock pot

Cover your bones with water, then add an additional cup of water

Add in 1-2 tablespoons of apple cider vinegar

Keep your crockpot on high for an hour, then place it on low for 23-24 hours

Once cooked strain out all solid ingredients including bones, meat and fat

While hot add in turmeric, coconut oil, chia seeds, flax seeds, and kale

Allow the bone broth to cool to room temperature

Once cooled, place in refridgerator over night or until solid and congealed

Once congealed remove any excess fat that has formed on the top of your bone broth

Store in refrigerator for up to 4 days or freeze
Bone broth is packed with nutrients that both humans and animals can benefit from. This recipe is great for your dog because it can be frozen and made into popsicles for your pets during the summer months!
Want to read about all of the great benefits of bone broth? Read my article: Bone broth for dogs all you need to know.
Here are a couple of key tips to remember when making your dogs bone broth

Apple cider vinegar helps to extract the minerals from the bones and it makes it a more potent broth. Bragg's raw Apple Cider Vinegar is a great choice as it has 'The Mother'
Never feed your dogs the left over bones. After 24 hours of stewing the bones are most likely fragile and can easily break or splinter causing gastrointestinal problems. Bones should never be given to dogs.
Use a variety of bones as different bones provide different benefits. If you want to read more about the best bones to use make sure you read my article all about bone broth for dogs here
Create your own recipe, there are so many things that you can do with it. Write down your favorites so you remember how much apple cider vinegar you put in, what other ingredients you added, and which bones you used
Here are some great ideas for bone broth use:
Make doggy popsicles! These are great in the summer treats for your fur baby
Make gelatin gummies, since the bone broth already congeals all you have to do is add in a little gelatin that is safe for dogs. All gelatins are not safe for dogs so prior to doing so make sure you read this article about which gelatin to purchase
Pour it over their meals. You can use a small amount with your pups meals per day. While extremely nutritious, bone broth should never be given as the only source of nutrition, but adding to your pet's regular food will give it a great taste
Let everyone know what you thought of the broth below!
WANT MORE PET-FRIENDLY RECIPES SENT TO YOUR INBOX WEEKLY? JOIN OUR EMAIL LIST NOW