Taking a camping trip with your dog can be a fun adventure but if they have digestive issues it can be pretty stressful for your dog and the entire family.
In this article, you will learn about 12 great must-to-know tips for taking dogs camping
This past summer I ventured out of my comfort zone and went camping! Of course, my fur babies came along.
While we weren't truly roughing as in sleeping in tents, it was still quite the adventure for us, and here are five things I made sure to do prior to heading off to the great unknown, or at least our little well-known trailer home for the weekend!
Keep reading for some must-know tips before heading out into the great outdoors with your dog that has digestive issues.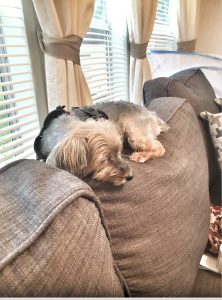 12 tips for camping with a dog that has GI issues
1. Pack dog food (and then pack some more)
Believe me, something will probably happen that you will need more food on your trip and if you don't need it at least you had it.
You may also want to pack extra water for your pup just in case anything happens with the water source.
2. Ensure those in your party know that your dog can't have scraps
If you're camping with a large group or with others that don't know the importance of feeding your dog certain food types it's imperative that those around are knowledgeable of the severity that comes with giving your dog food outside of his or her regular diet.
3. Keep an eye out for food on the grounds
Survey areas where you and your camping crew will be hanging out the most so you can rest assured there are no leftovers or bones from the previous campers.
There is bound to be something on the grounds that your dog will want to get into.
While you may not be able to catch every morsel of that piece of hamburger someone dropped from the grill, you can certainly try.
Make sure you survey the area pretty well before letting your pup roam.
Also, if your dog is coprophagic or likes to eat poop they can pick up diseases from wild animals so keep an eye out for any wild animal waste.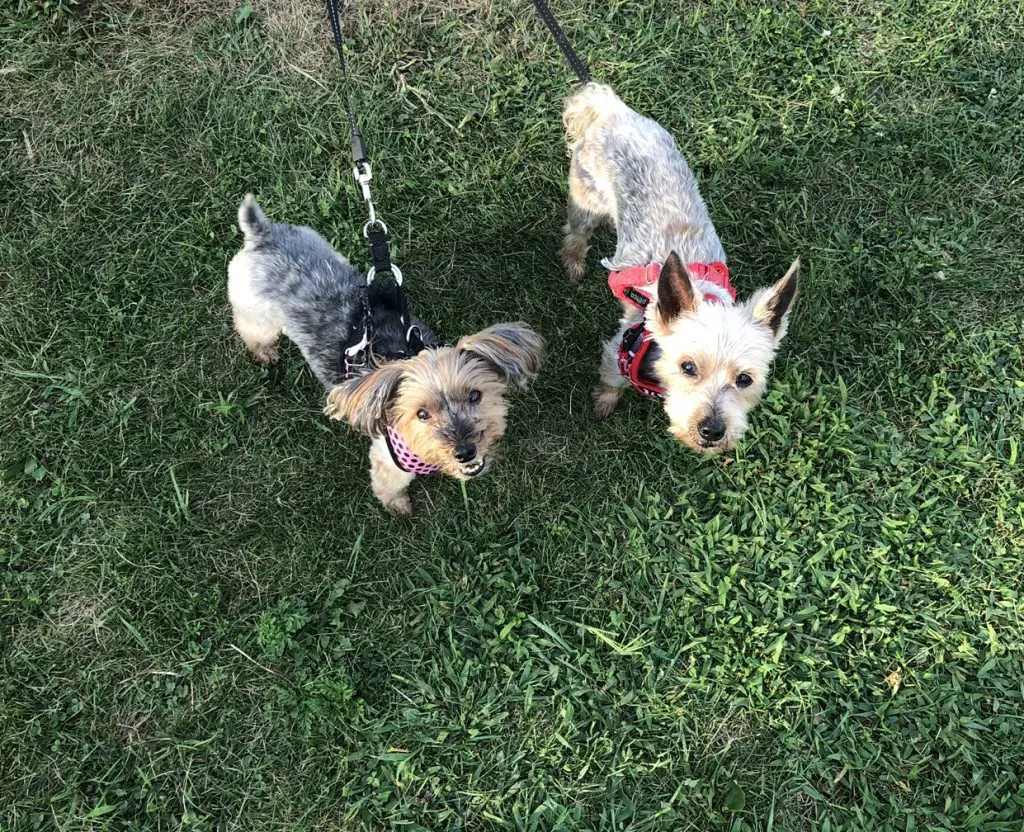 4. Know pertinent locations
Especially if you're going to a new location. You should map out important locations beforehand.
The main information you should gather is:
The local pet supply store – in case you have to grab extra food. You should also call beforehand to ensure they have your dogs food in stock so you won't be caught off-guard, as changing their food can cause flareups
The nearest veterinarian – Before you go call the vet's office to find out if they are taking new patients
The nearest emergency veterinarian – Just in case you have an emergency in the middle of the night and the nearest full-service veterinary clinic is not open
The nearest grocery store – in case you have to pick up something to give your dog as a bland diet if they start to have stomach issues.
5. Have the necessities on hand
My motto is to always have things on hand just in case. Seriously, when we went camping my car was loaded with necessities! So make sure you have all medications, activated charcoal, and other necessities on hand even if you think you may not use them. It's always better to be safe than sorry, so even if you don't have to break open that bottle of activated charcoal it's nice to know you have it just in case.
6. Get them used to travel before the trip
If you're driving make sure your dog is comfortable in the car before taking an extended drive to the campsite. This can be done by placing them in the car for short periods of time and extending them over time.
If you're flying make sure your dog is comfortable in their carrier prior to traveling.
Travel can be stressful and bring on IBS due to anxiety in dogs so the goal is to make sure your pup is as comfortable as possible.
7. Keep them comfortable
Don't let your dog overheat
If it is extremely hot outside don't keep your dog outdoors and allow them to cool down in air conditioning if this is an option.
If possible bring them something from home
Having something from home may help to keep them calm and may soothe their nerves if they get stressed with travel and new places.
This could be a toy, blanket, bed, or sleeping pad.
8. Keep them from eating grass and drinking the water
While this may prove to be a near-impossible feat you can certainly give it a try. Things like leptospirosis and giardia lurk in standing waters, on the grass, and in streams.
One easy way to do this is to keep your dog leashed at all times when they are outside, this way you can have better and quicker access to them if they have something in their mouths
9. Give your dog a bath once you get home
Giving your dog a bath and checking them for ectoparasites like fleas and ticks is something else to consider as a final step in keeping your dog safe.
If your dog steps in water with giardia there is a possibility that it can be tracked in on their fur and if licked they can infect themselves. In addition, if your dog got fleas they could swallow one and infect themselves with tapeworm if the flea was a carrier.
Also, always have your dog up to date on their vaccinations and place your dog on preventative meds for fleas, ticks, and heartworm prior to going camping
10. Bring lots of water
Bring lots of water for your dog especially if you're going to a campsite that isn't fully developed. Having adequate water can also help prevent your dog from drinking streams or standing water.
11. Pack a doggy first aid kit
Aside from your human first aid kit, you should have a doggy one that should include
Antidiarrheals
Medication for cleaning cuts and wounds
Benadryl
Tick remover
Extra poop bags for dog waste
Dramamine
12. Know what poisons are around
If you decide to hike or swim you should know what to look for on hiking trails that may be detrimental to your dog (and yourself)
Common poisonous encountered when camping
Poison Ivy
While poison ivy isn't usually toxic to dogs if the sap gets on them it is if they eat it. If your dog eats or licks the sap this could cause some severe reactions so you should be aware of what poison ivy looks like along with other poisonous plants.
To learn more about poison ivy and its effects on dogs, read this article.
Blue Green Algae
Algae poisoning could be life-threatening and fatal. Signs of algae poisoning are
Vomiting
Diarrhea that is bloody or dark
Lethargy
Seizures
Excessive salivation
'
---
4 great dog-friendly campsites
Most pet owners know that taking their dog to a national park is okay to do but are unaware that they actually have other options.
Here are some dog friendly options for dog owners who want to enjoy camping with their dog outside of the National Parks.
All of these camps are tremendous fun for dogs and their humans. With activities for dogs and their people, they promise to be a hit for the entire family.
---